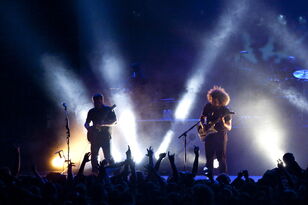 Coheed and Cambria
is an American rock band from New York, formed in 1995. The band was originally named "Shabütie"; however, the name was changed to "Coheed and Cambria" when drummer Nate Kelley departed. The band incorporates aspects of progressive rock, punk rock, and heavy metal.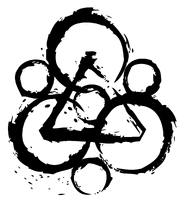 Departures and No World for Tomorrow (2006–2009)Edit
Claudio Sanchez released an album from his side-project
The Prize Fighter Inferno
in October 2006 titled
My Brother's Blood Machine
. Like Coheed and Cambria's albums, it was a concept album, related to Coheed and Cambria via a character that appears in both stories: Jesse, "The Prize Fighter Inferno". The album was intended to be a prequel to the Coheed and Cambria albums.
[1]
Claudio said "when we were called Shabütie, the initial idea for Coheed and Cambria was to be an acoustic/electronic side project. So I guess The Prize Fighter Inferno is kind of the original idea for Coheed and
Cambria."
Influences
Edit
Sanchez has several times stated he is envious of his father's era of music, and that the band is influenced by groups of that era, such as Led Zeppelin, Pink Floyd, The Police, Misfits, Queen, and Thin Lizzy. Apart from these roots in classic rock, Sanchez also acknowledges an eclectic array of influences, including post-hardcore group At the Drive-In, and heavy metal pioneers Iron Maiden.[2][3][4] Contrary to rumours, bassist Michael Todd said the band was not influenced by Saga and that he had never heard of that group.[5] Many draw similarities between Rush and Coheed and Cambria,[6][7] but Josh Eppard stated in an interview that neither he nor the other band members were Rush fans or influenced by Rush. They began listening to Rush after their second album.[7] Influences of punk rock have been cited as well, especially the Misfits and Bad Brains. Dr. Know of Bad Brains plays a guitar solo on the track "Time Consumer" from Second Stage Turbine Blade. Sanchez and Stever's early band Toxic Parents drew many similarites from Jane's Addiction and Misfits.[8] Sanchez has stated that The Amory Wars, the story on which Coheed and Cambria base its lyrics, has similarities to other stories, especially to the Star Wars trilogy. For example, when the character Coheed returns home to his wife Cambria, she says, "Somehow I've always known," a line that Princess Leia said to Luke Skywalker in Return of the Jedi.[9][10]
Touring
Former
Session members
Discography
Edit
Main article: Coheed and Cambria discography
References
Edit