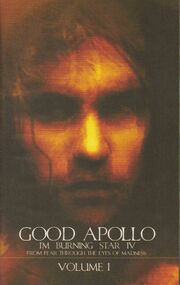 Good Apollo I'm Burning Star IV, Vol. 1: From Fear Through the Eyes of Madness is the first volume of the fourth chapter of The Amory Wars. The story of this chapter was originally told in a graphic novel that was released along side the album of the same name with art by Christopher Shy.
However, Claudio Sanchez has commented that he was unhappy with how the novel turned out. Many sections of the story were left out due to budget problems. Since the story was re-titled "The Amory Wars", Claudio Sanchez has stated that after comics telling the story of Second Stage... and In Keeping Secrets... are completed, they will re-tell this part of the story properly before moving onto No World For Tomorrow.
In April 2017, the first issue of The Amory Wars: Good Apollo I'm Burning Star IV was released.

As of June 2011, the story for In Keeping Secrets of Silent Earth: 3 is complete.
A small summary of the chapter's plot was published on the Evil Ink Comics website:
Considered the 'twist' portion of the saga, 'Good Apollo…' picks up where IKSSE:3 leaves off, only this time we step outside the story to see how adverse happenings in the writer's life affect the outcome of his work. Through the deceitful heartbreak of Miss Erica Court, our writer's former love interest, Claudio (the Writer) is driven to the brink of insanity where his subconscious comes to life in the form of a demented Ten Speed Bicycle, who is convinced that peace will come about with the death of the character he's based after her, Ambellina. Within the 'fictional' portion of the story, Ambellina has just received word from Inferno of an opportunity to land in Kalline, a neighboring city to House Atlantic, and their chance to unveil the Crowing is here, only Claudio (The Character) has a hard time believing he is the mythical creature they say he is. The two worlds will collide in the glass of the Willing Well.
Year Of The Black Rainbow (Album - Story)
The Second Stage Turbine Blade (Album - Story)
In Keeping Secrets Of Silent Earth: 3 (Album - Story)
Good Apollo, I'm Burning Star IV, Vol. 1: From Fear Through The Eyes Of Madness (Album - Story)
Good Apollo, I'm Burning Star IV, Vol. 2: No World For Tomorrow (Album - Story)
Community content is available under
CC-BY-SA
unless otherwise noted.