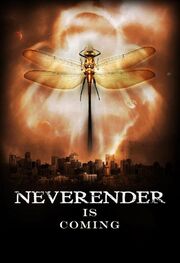 The Neverender Tour was a series of concerts performed by Coheed and Cambria. The concerts were initially planned to be held only in New York and Los Angeles. However due to demand two subsequent dates, Chicago and London, were added to the series.
At each location, the band would play four shows on four consecutive days, on each night one of the albums was played in full. Each night also began with a different supporting act and before Night Four, an acoustic set was played for people who purchased tickets for all 4 nights. A VIP ticket was also available to buy, which allowed people to get into the shows early, receive a poster and VIP badge, as well as a signing before the acoustic performance.
The recently announced Neverender 2014 tour will extend across the United States and will include only a straight-through performance of In Keeping Secrets of Silent Earth: 3.
Background
Edit
In early July 2008, the band's official website and MySpace featured a teaser poster with the dragonfly artwork for an event called Neverender (seen above). A few days later, the event was unveiled to the public. Four days before all of the tickets went on sale there was a presale of special "VIP" tickets. These were 10% of the total number of tickets for the concerts. They sold out within minutes of going on sale.
In early August, the band's official website along with their MySpace featured two flags on the same Neverender poster. Two days later it was announced that Neverender would also have shows in Chicago and London.
Tour Dates
Edit
New York City, NY at Venue Terminal 5 were on October 23-25, 2008.
Chicago, IL at Venue Riviera Theatre were on October 28-31, 2008.
Los Angeles, CA at Venue Avalon were on November 5-8, 2008.
London, UK at Venue Astoria were on December 1, 3-5, 2008. (December 2nd was cancelled due to power cut.)
London Cancellation
Edit
Due to a power cut, the show for In Keeping Secrets of Silent Earth: 3 was cancelled and rearranged for the Friday night instead. Initially the band decided to move the acoustic show and signing to the Friday as well, however due to many fans not being able to attend this date, it was moved back to the Thursday.
Because of the power cut, Claudio Sanchez decided to repay the fans for being able to return on the Friday by performing a set containing songs from The Prize Fighter Inferno album, as well as a various covers, and song from a project-in-progress called "The Echo Maker" which Claudio had written just days before.
Released Media
Edit
A teaser CD was released before the release of the DVDs called Neverender 12% which contained 6 tracks from the New York shows.
There were two versions of the concert released. The first was a 2 disc DVD containing all 4 nights at New York. The second one, Neverender: Children of the Fence Edition, contained 4 CDs & 4 DVDs (one for each night), a documentary DVD about the bands history, a hard-back book of photos and a Dragonfly keepsake.