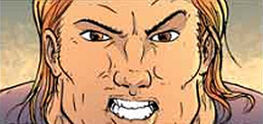 Sizer is one of the IRO-bots created by Jesse Kilgannon, the Inferno. A type of hulking golem, Sizer has the strength of many men, though his age is that of a child.
Second Stage Turbine Blade (Album)
Edit
Minimally present in this chapter of the Amory Wars saga, Sizer is only witnessed during the end of the album, when, during the song IRO-bout (song)|IRO-bot, he is forced to witness the decommission and disassembling of another IRO-bot named Longcidia. When confronted about this action, Jesse Kilgannon informs Sizer and Chase that there is no room for weakness or failure in his and his former-wife, Mariah Antillarea's war against the Unified Red Army.
In Keeping Secrets of Silent Earth: 3
Edit
Participating in the battle against the Unified Red Army, Sizer is dismembered by Mayo Deftinwolf and his soldier-henchmen. Later, Claudio Kilgannon and the fallen Prise, Ambellina, find the discarded pieces of Sizer, which Claudio collects, intent on reconstructing the former IRO-bot. Sizer then accompanies Claudio and Ambellina on their quest to find and confront Mayo Deftinwolf and his master, the Supreme Tri-Mage Wilhelm Ryan. Aboard the Camper Velourium, Sizer aids Ambellina and Claudio, alongside the Cambria-possessed Al the Killer, in fending off the Unified Red Army.
Good Apollo I'm Burning Star IV, Volume I: From Fear Through the Eyes of Madness
Edit
Sizer, reunited with his IRO-bot sister, Chase, are present during the Willing Well saga in this chapter of the Amory Wars. Sizer and Chase attempt to fend off the Unified Red Army, and assault House Atlantic while Claudio and Ambellina are confronted by an Onstantine Priest and the Writer at the Willing Well.
Community content is available under
CC-BY-SA
unless otherwise noted.